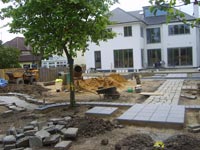 We often work with builders, garden designers landscape architects and landscape gardeners where they would be the main contractor on a project that has either a pond or water feature as part of the construction. We either undertake this part of the works as a sub contractor or consult and oversee. Consult and oversee means that the main contractor would usually undertake the main constructional tasks under our guidance. We would compliment these works by providing and installing the aquatic specific parts of the project.
These are the two main guises but we are keen to support in the most fitting role. Should you be working on something at the moment and feel we could be of use we are always happy to discuss your plans over the telephone so you can understand how we can help.
If you want more information, please call us or click here.